Sumo Morning Training Experience
STA001
Watch professional sumo wrestlers in practice at a genuine sumo training session. Be attended by a certified tour guide-interpreter who will escort you from your hotel and explain to you the history, etiquette and culture of sumo. A once in a life time experience, it is akin to watching the behind-the-scenes of premiership soccer players. 

◆ At the end of February and during March, sumo training is held in Osaka.  To attend training in Osaka, book your tour here.
◆ In June and July, training is held in Nagoya. To attend the Nagoya training, book your tour here.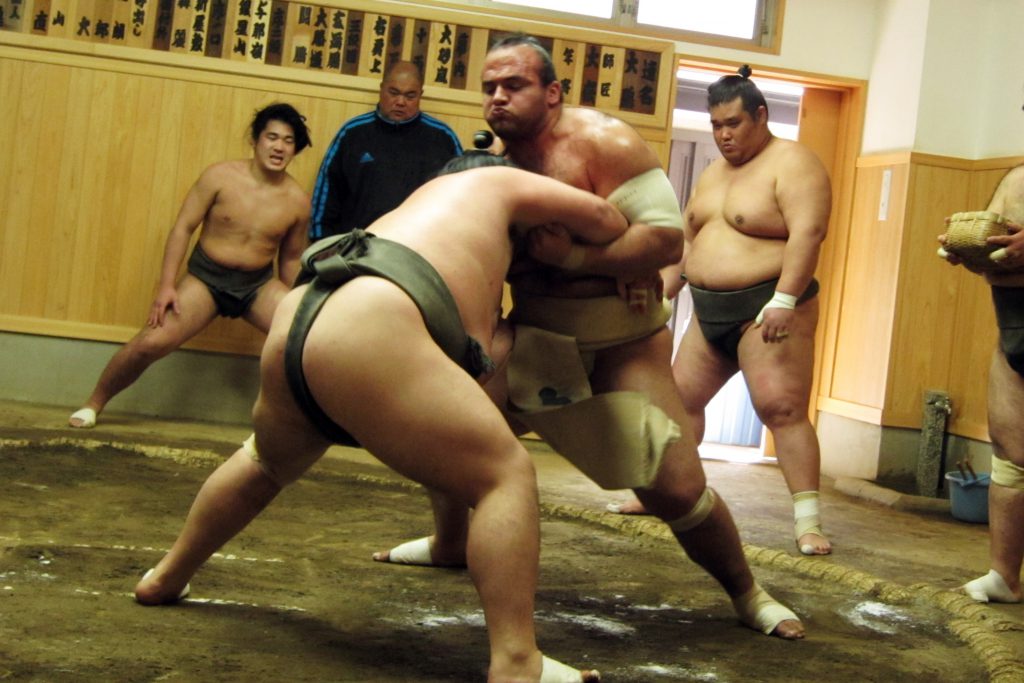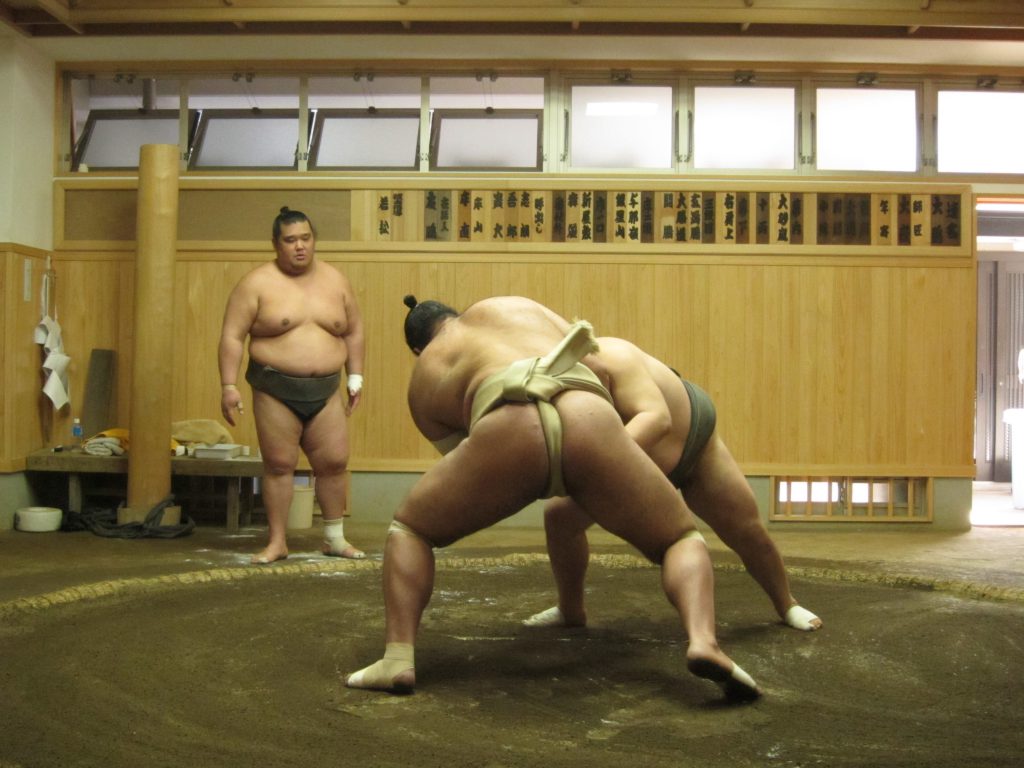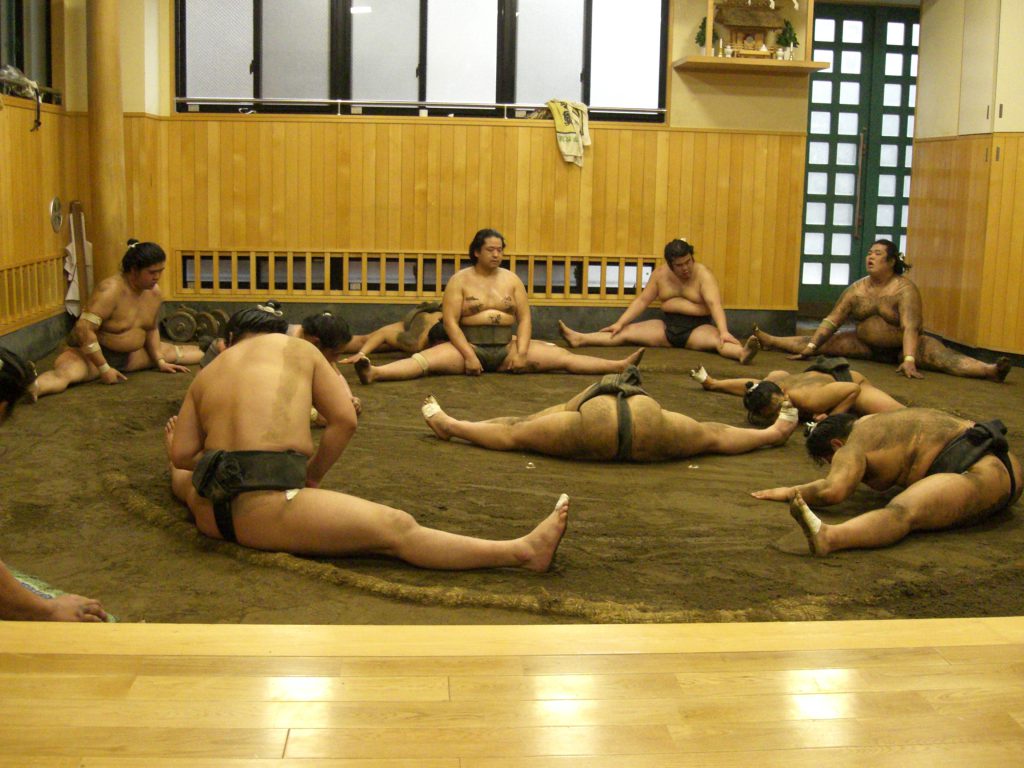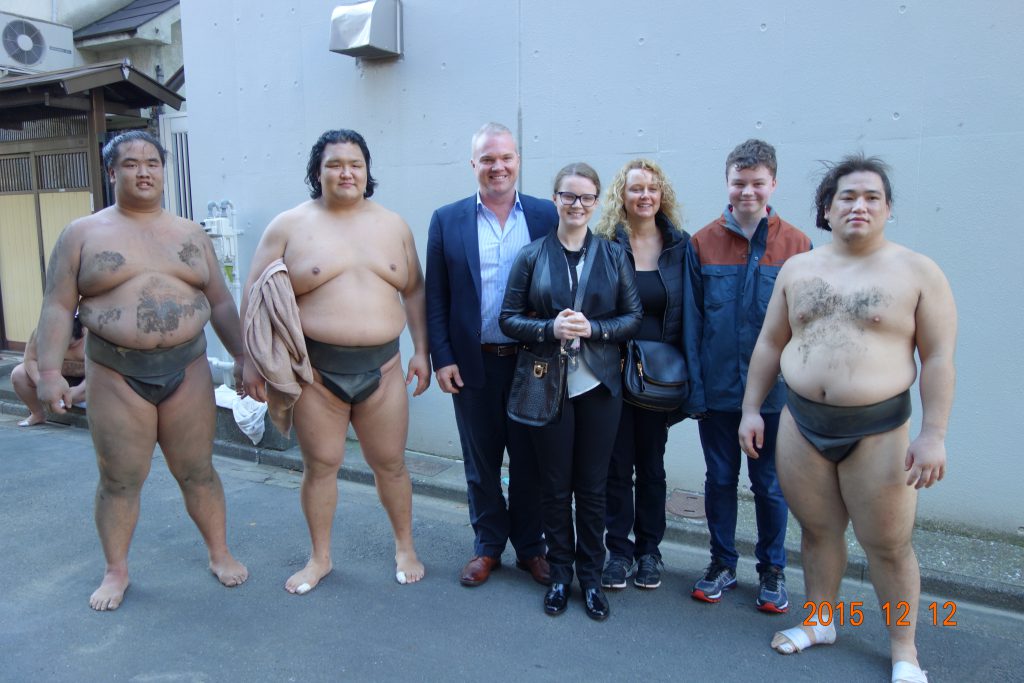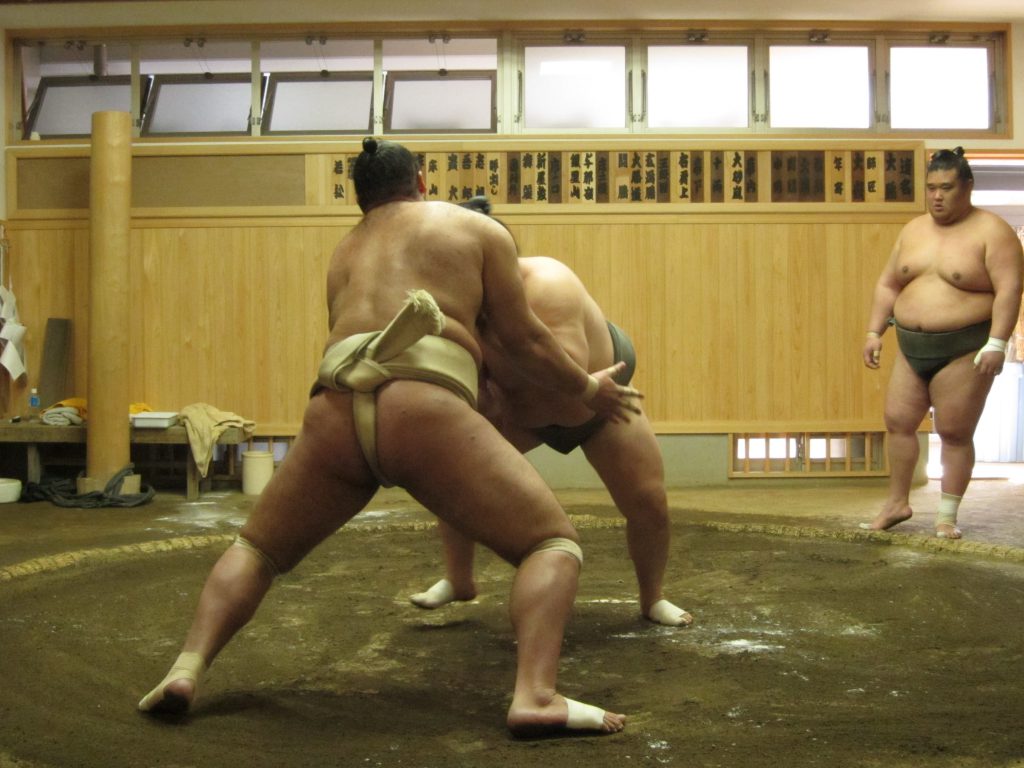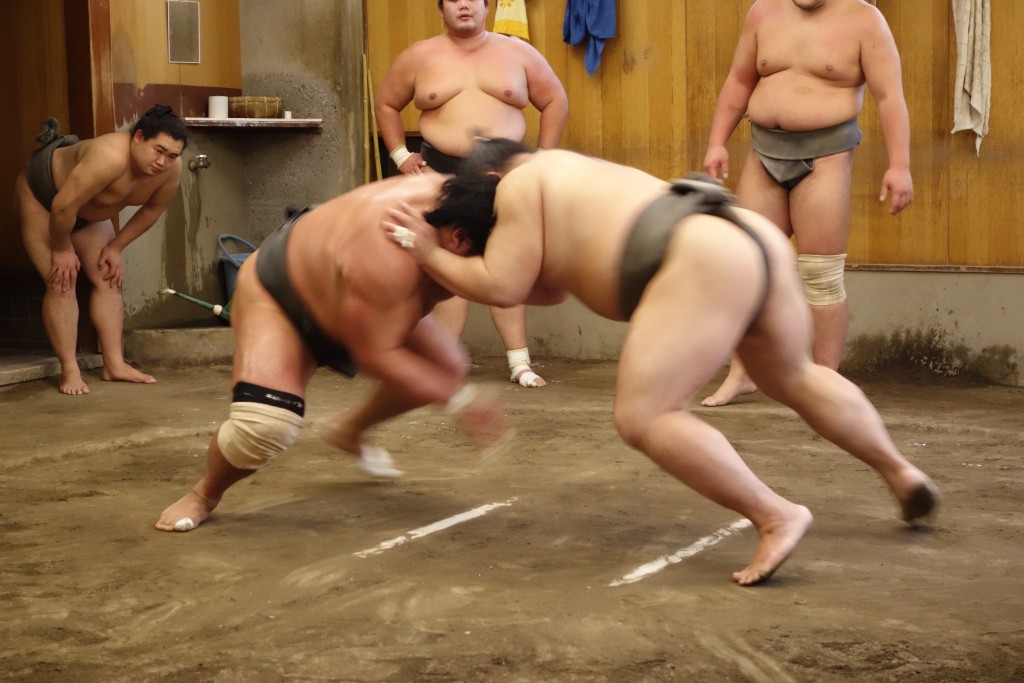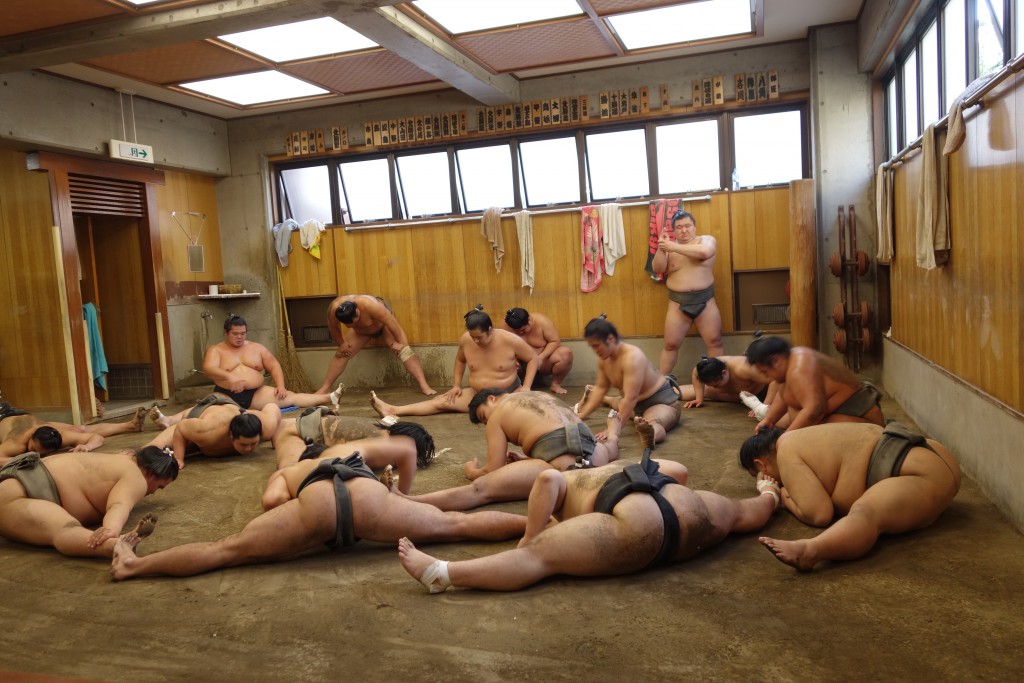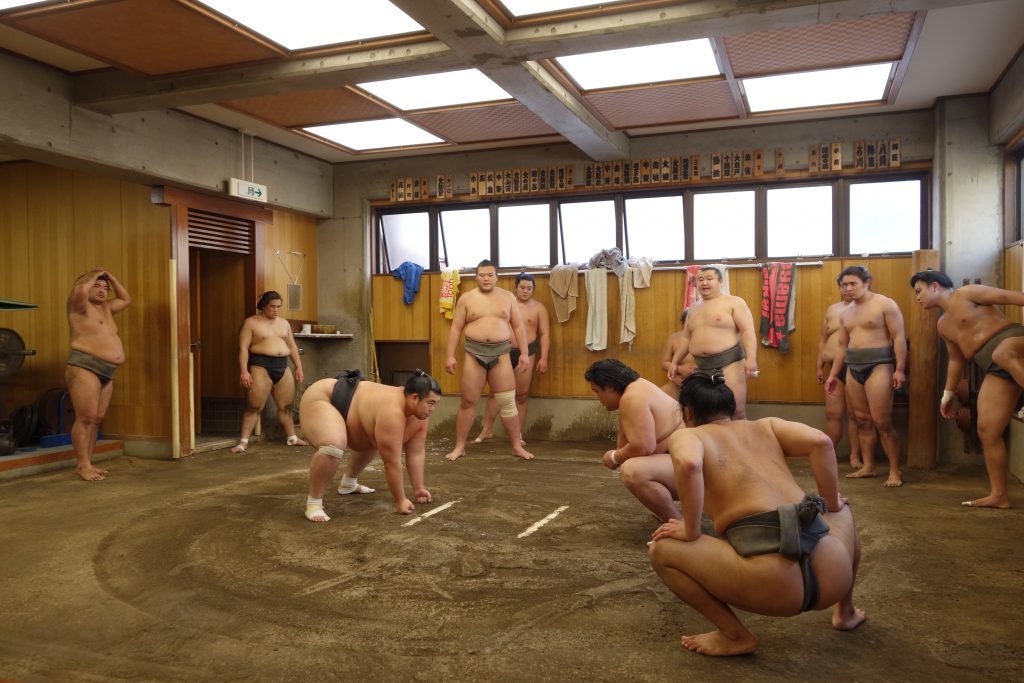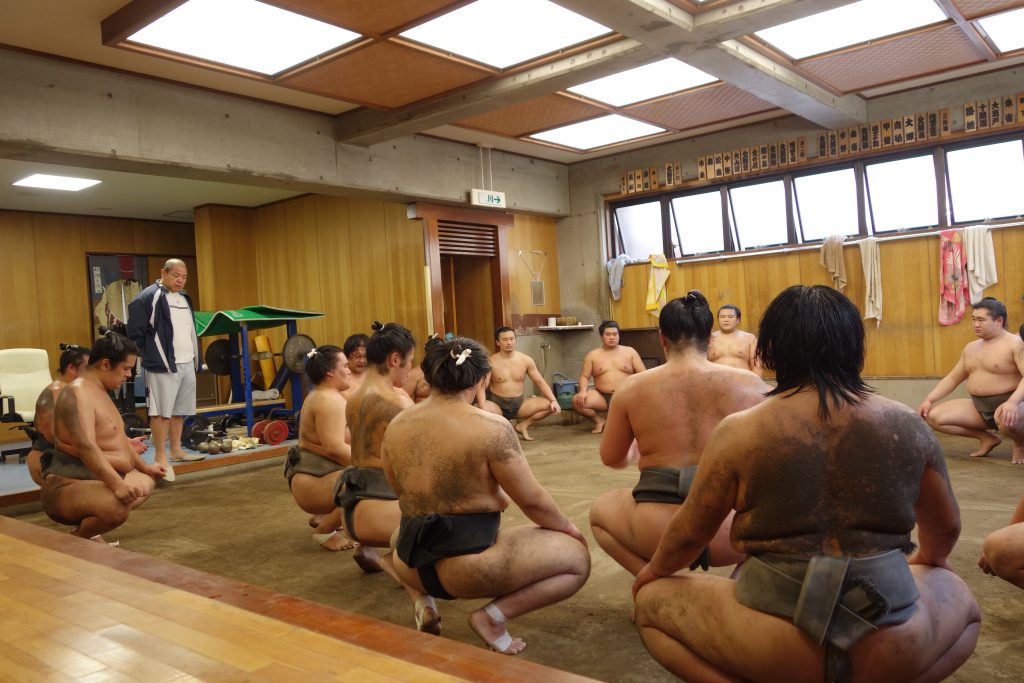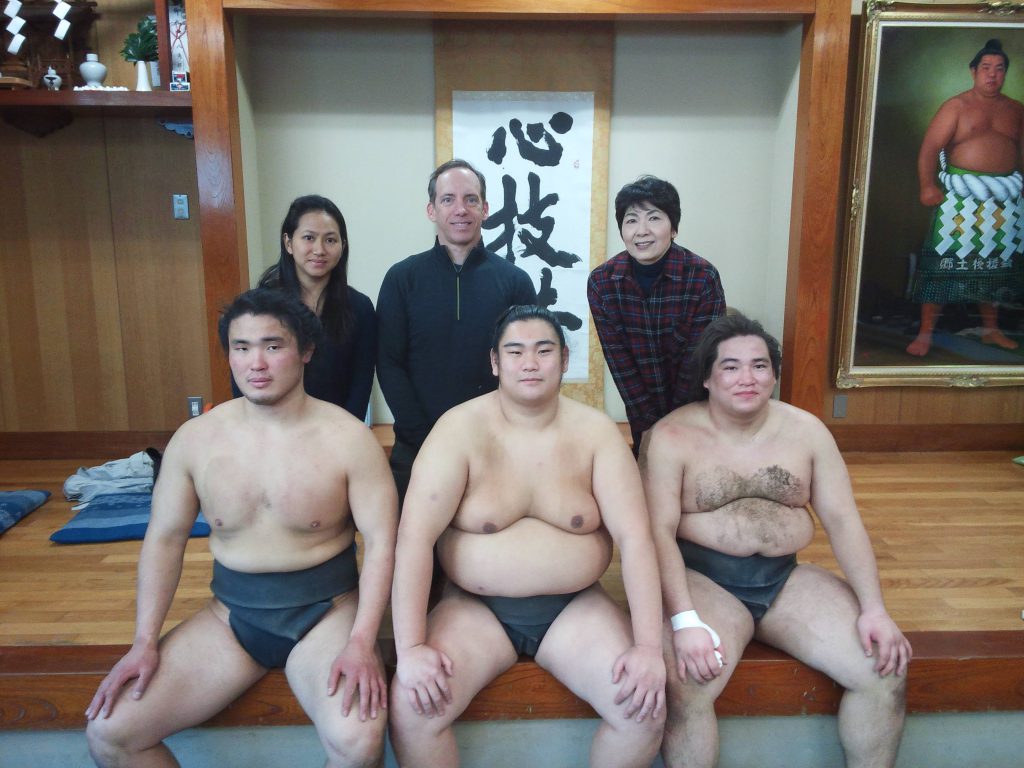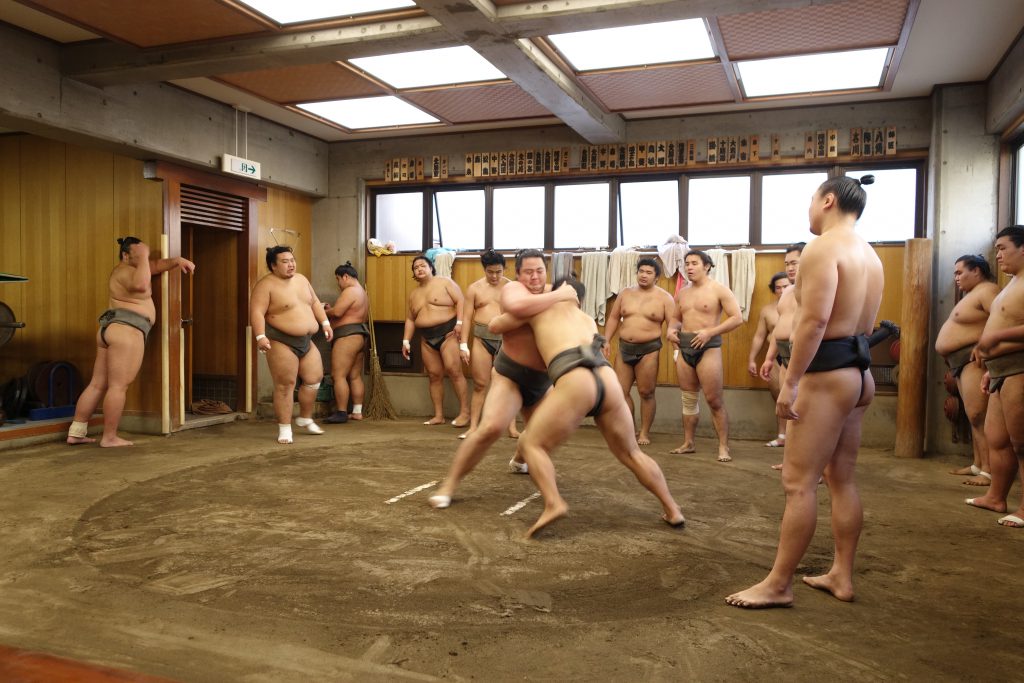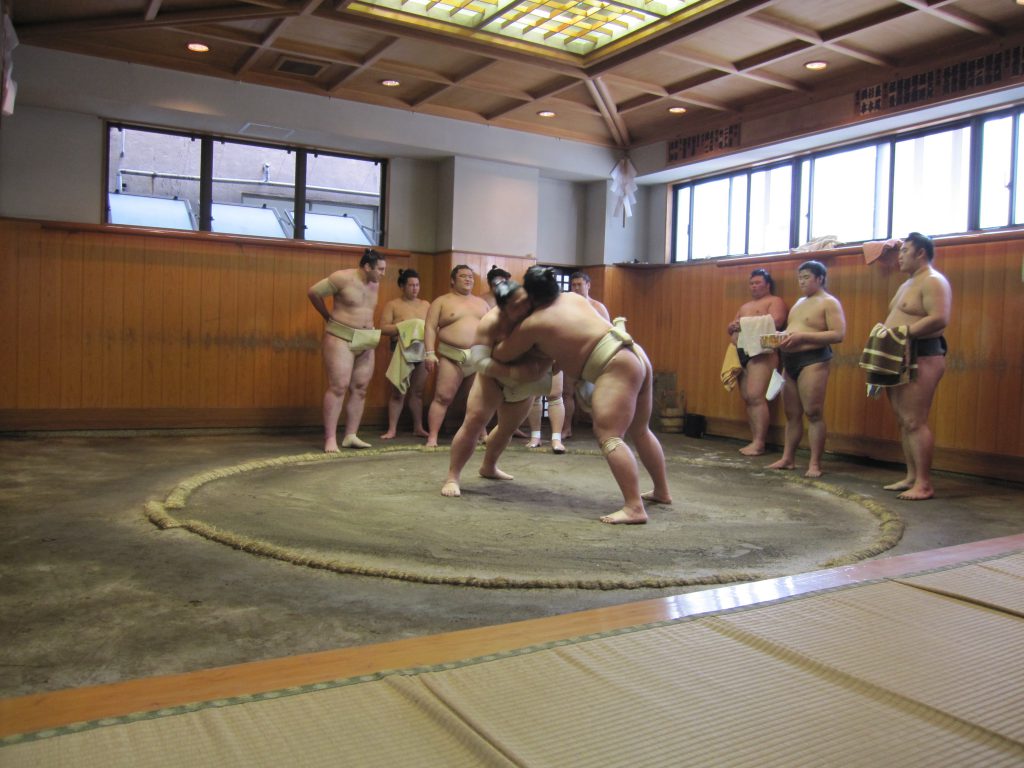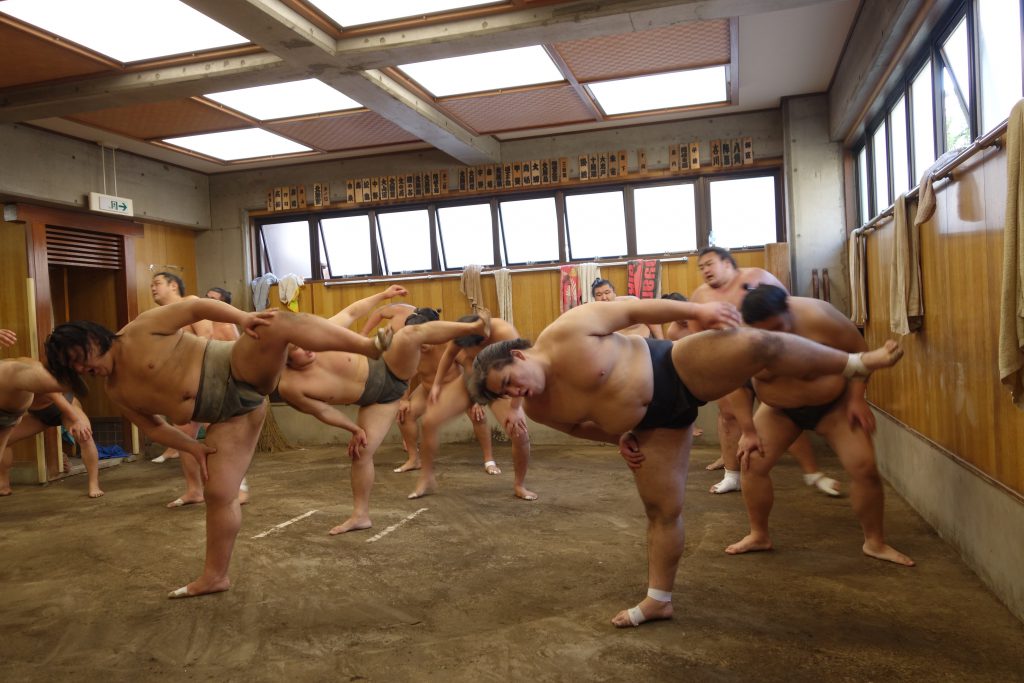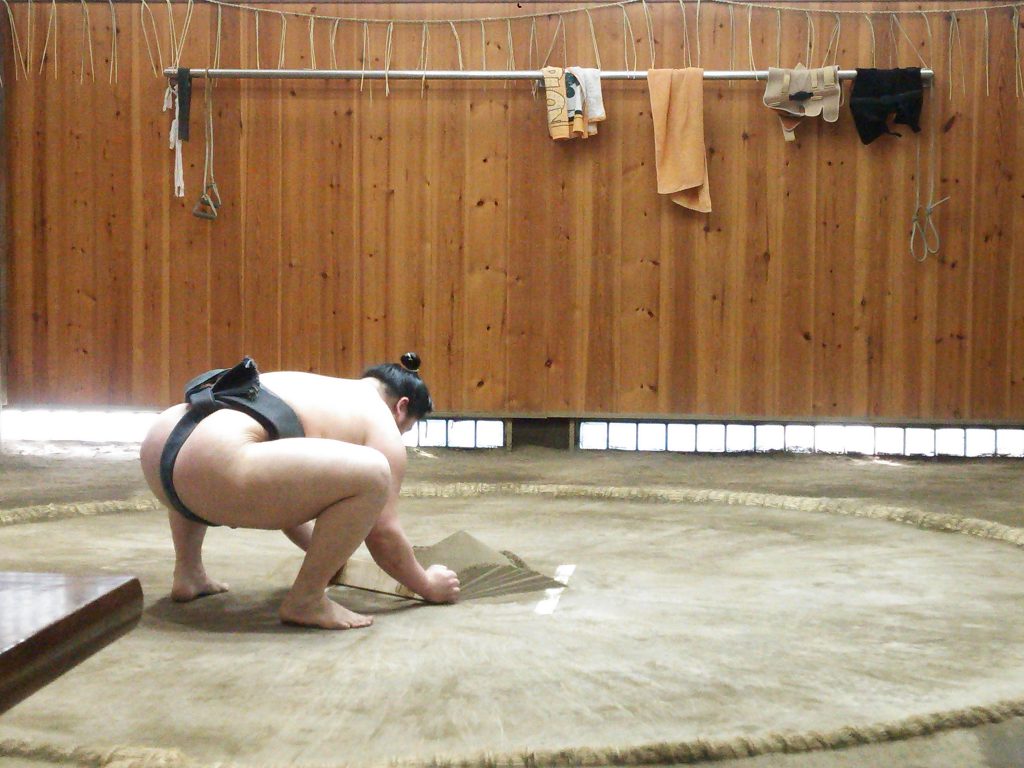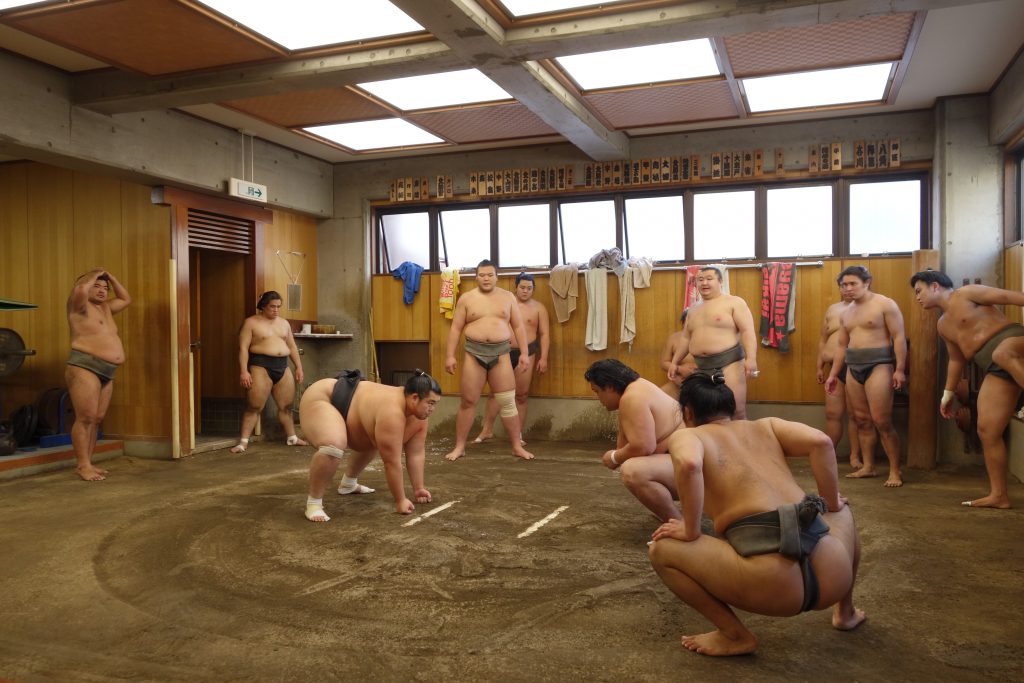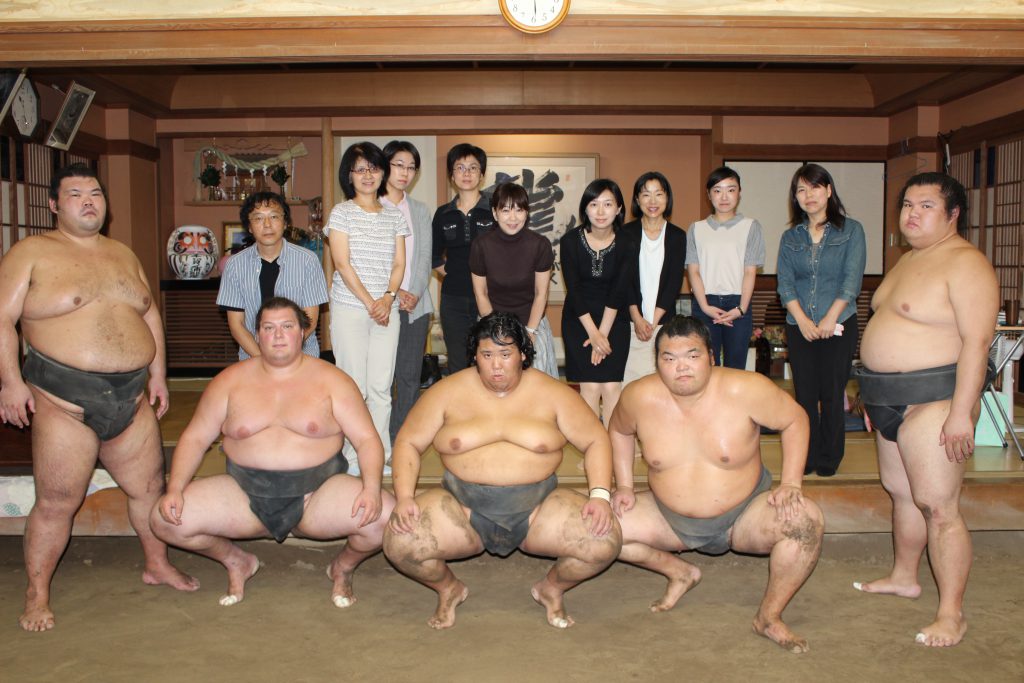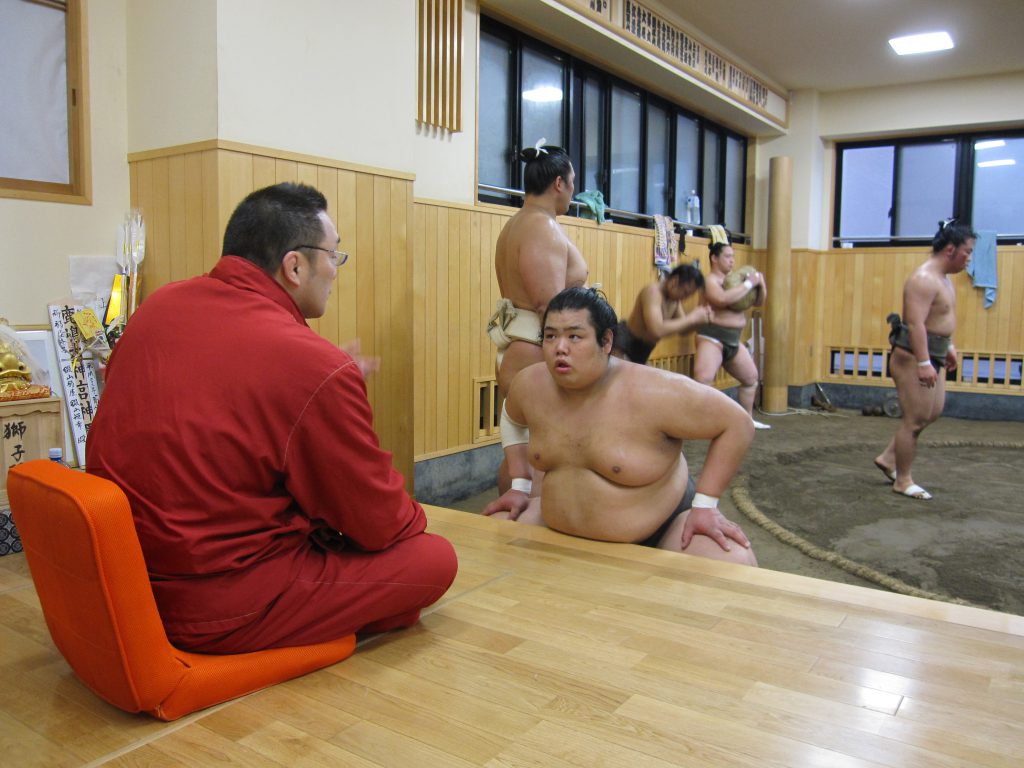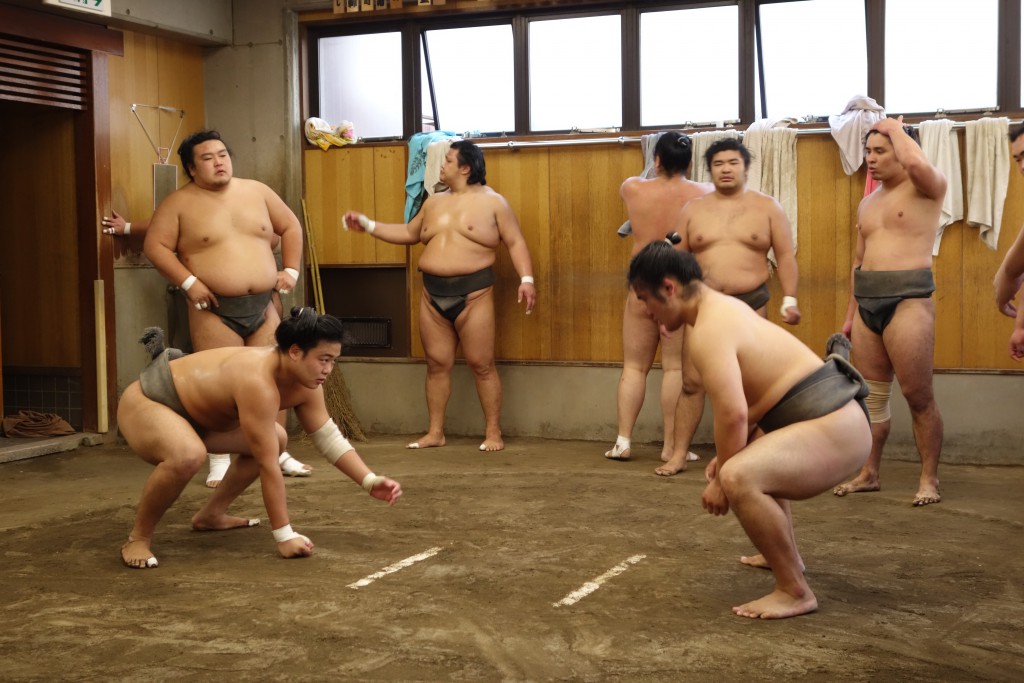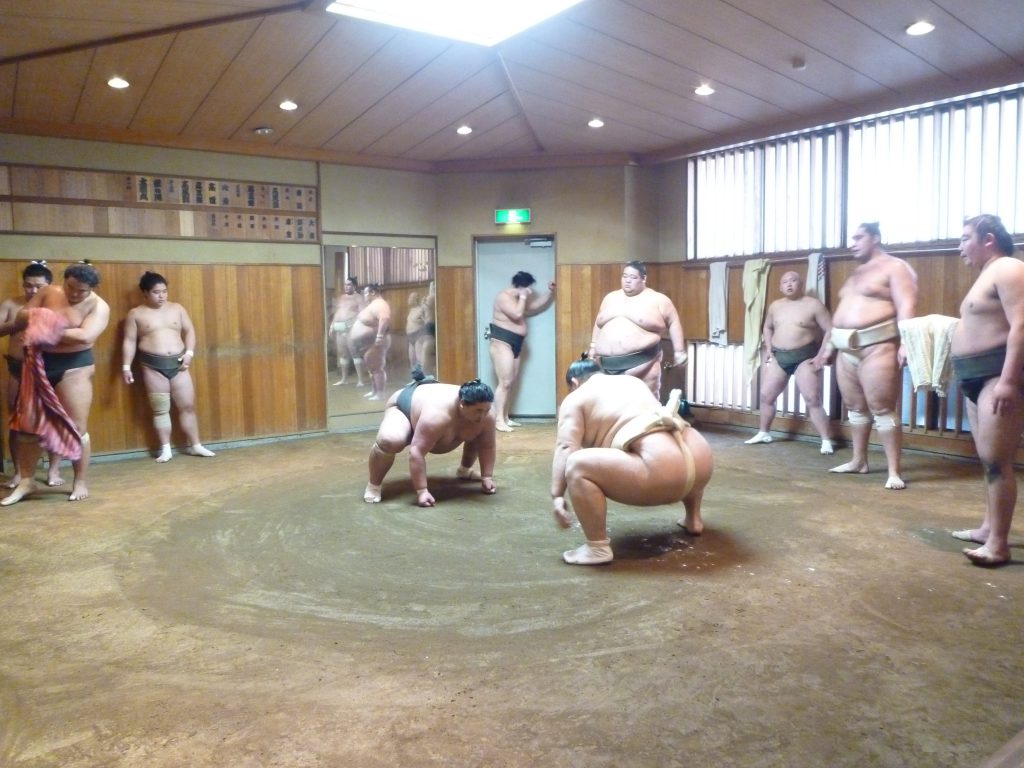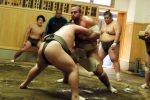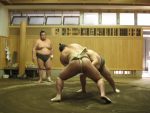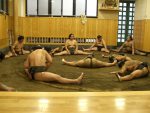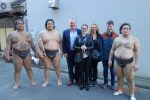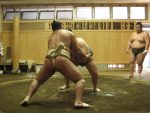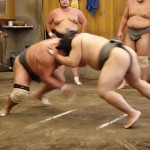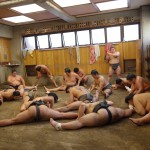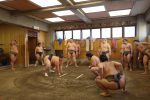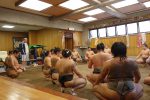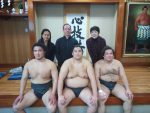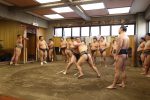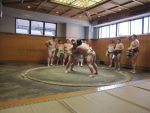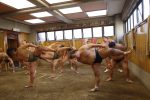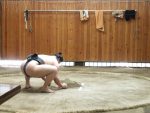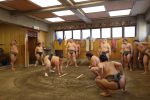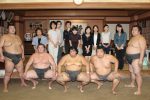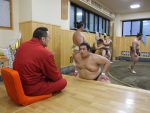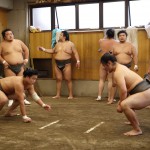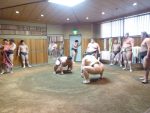 HIGHLIGHT
◆ Watch a genuine sumo training session in an authentic sumo stable 
◆ Be accompanied by a nationally-licensed tour guide 
◆ Enjoy a stress-free trip complete with hotel pick-up and escort to the stables 

WHAT YOU CAN EXPECT
<As this is an authentic sumo training session, bookings can be subject to change up until the viewing date. In the case of an unexpected schedule change made after a booking is made, all booking costs will be 100% refunded.>

About Sumo
 The national sport of Japan, sumo is believed to have started sometime between the 3rd and 7th centuries. Initially a religious ritual carried out in hope of bountiful harvest, it eventually became a significant event in the imperial court performed in front of the emperor. Strong and dutiful, sumo wrestlers would also play a part in feudal Japan being hired as fighters and other employees by samurai families. The competitive form of sumo we know today then came in the 16th century when stables were first formed and matches and major competitions were first held to raise money for the building of Tokyo. The professional sumo wrestler was born. 

Today, sumo is still an important asset of Japanese culture and many of its traditional elements remain. Some, such as the famous sumo top knot and the shinto shrine above the ring, you will be able to see during your tour.

About the program
In this tour, guests are given the once-in-a-life opportunity to watch professional sumo wrestlers train in a genuine sumo stable. As part of the tour experience you will be accompanied by a professional guide, who will detail for you the many aspects behind traditional sumo. You will also witness sumo training techniques and rituals, as well as a few practice matches. 

Depending on the session/stable, the training session is expected to proceed as follows: 
1. Basic Sumo Exercises: Exercises to strengthen legs, hips, and upper body, as well as muscle building regimes.
2. Practice Matches: Serious bouts performanced between two sumo wrestlers at a time. A must-see part of the training!
3. After the session: You may have the chance to take photos with the wrestlers (schedule depending).

*Due to the exclusive nature of this product (sumo wrestlers are the equivalent to professional soccer or baseball players in Japan), there are a number of rules to follow while attending a sumo training session. Training schedules are also subject to variation depending on time of year and stables. For more information, see *More Info. 

Bookings are tentative until schedules are confirmed (approximately one month in advance of the tour date). If you have any questions regarding the tour before the schedule opens, please contact our tour operator at info@truejapantours.com
More Info

Important Information

1. Pick-up time may vary depending on stable schedule and pick-up location. Our tour operator will inform you of your actual meeting time closer to the day of the tour.
2. The stable schedule is subject to change and duration may vary between 1- 2 hours. In the case that training duration is only an hour, the guide will provide a free sightseeing and walking tour of the area during the remaining time.
3. While this tour includes a private guide, the sumo stable will be shared with other tour groups. Due to this, the sumo stable may ask you to wait at the stable entrance until other groups arrive.
4. In rare cases, the sumo stable may request that your private tour guide is not present during the training session. In this case, your guide will take you to the entrance and pick you up at the end of the training.


Price List 


| | | | | |
| --- | --- | --- | --- | --- |
| 1 Person | 2 People | 3 People | 4 People | +1 Person |
| ¥ 19,800 | ¥ 29,700 | ¥ 39,600 | ¥ 49,500 | + ¥ 9,900 |

*Tax included
CANCELLATION POLICY
If you cancel your reservation, the following cancellation rates and remittance charges will be charged.
(1) 3-14 days prior to the program date: 20 % of the program fee
(2) 2 days before the program date: 50 % of the program fee
(3) 1 day before the program date: 100 % of the program fee
PROGRAM FEE
Basic Fee (Per Group)

10,900

JPY
Fee per Person

10,900

JPY
Total Price = Basic Fee + Fee per Person * Number of Participants + Tax
STARTING TIME

8:30~
DURATION

3 hours
LOCATION

Tokyo
MINIMUM NUMBER OF PARTICIPANTS

1 persons
INCLUSIONS

• Hotel pick up* 
• Nationally-licensed English speaking guide 
• Access to private sumo stable 

*Please note that we can only do our pick-up service at hotels within a 10-minute walk of stations on the JR Yamanote Line. Please contact us if you are unsure if your hotel falls into this category. For hotels not within this area, we can arrange an alternative pick up destination.

※ Those who wish to use a taxi service instead of public transportation must pay an additional cost. 

EXCLUSIONS

• Hotel drop-off 
• Any food & drink
NOTIFICATIONS

◆ This program is not available for children under 11 years old. We also do not recommend this activity for those with mobility issues, as guests will be asked to sit crossed-legged on the floor for a considerable amount of time (cushions are provided). 
◆ The total duration of the tour varies. A training session can be anywhere between 30 minutes and 3 hours, depending on the stable schedule. In the case that you receive a shorter experience, our guide will also provide a short walking tour during the remaining time. 
◆ The following guidelines apply when you visit a sumo stable: Recommendation and Guidelines (PDF)  Please make sure to read them before your visit. 
◆ Our services are mainly offered in English. Other languages ​​(including Chinese, French, Spanish, German, Italian, and Russian) are also available. If you would like to request this tour in a language other than English, please inquire at info@truejapantours.com as soon as possible. 
◆ Program duration is an estimate. It is subject to change depending on the number of participants and/or certain conditions.
◆ Please advise us if you have any religious or health restrictions, or allergies, and if you would like to request any special care for participants (including children).
◆ Please follow the guide's instruction during the program. We shall not be responsible for any accidents caused by disregard of the instructions.
◆ Our business hours are from 9:00am to 6:00pm on weekdays. For inquiries received outside business hours, we will look into them and respond on the next business day.

Note: Before booking, please email us at info@truejapantours.com to check availability. 
Please note that any programs booked without an inquiry will not be guaranteed.