Sumo Wrestlers Morning Training Watch in Nagoya (June / July)
SCA001
Sumo is a contact sport. Sumo wrestlers weighing over 100kg (220 lb) practice with all their strength. You can watch their practice at the ring side. Sumo wrestlers wearing nothing but a loincloth surround the ring. Practice starts from the lower ranked sumo wrestlers. All other wrestlers except for the competing two perform stretching exercise, basic sumo exercise to strengthen legs, hips, and upper body, and muscle building exercise. A match practice is a serious bout between two sumo wrestlers. As if competing in a real tournament, wrestlers hit head to head, push each other, or throw the opponent onto the ring. The winner is qualified to stay in the ring and competes with a new opponent. Some wresters stay in the ring for a long time by beating many opponents. As the practice progresses a higher ranked wrestler comes into the ring and easily defeats the lower ranked winner. Sumo is a world of real ability. Only the talented and well trained wrestlers can get to the higher rank and the rest should leave or retire.
Consequently, a sumo practice watch tour is permitted only to those who realize and follow the sumo tradition and manners. Our guide will ask you to follow certain rules in watching the practice. We may sometimes have to ask certain people who don't follow the rules to leave the tour.
Our officially certified guide comes to meet you at your hotel and gives you basic guidance on how to properly watch a sumo practice at a sumo stable. Many sumo stables are not taking foreign visitors now, but we will do our utmost effort to find such stables that accept a sumo practice watch.
 Stable reservation basically opens 1 month prior to your preferred tour date. In case there are no availability shown, please contact our tour operator by info@truejapantours.com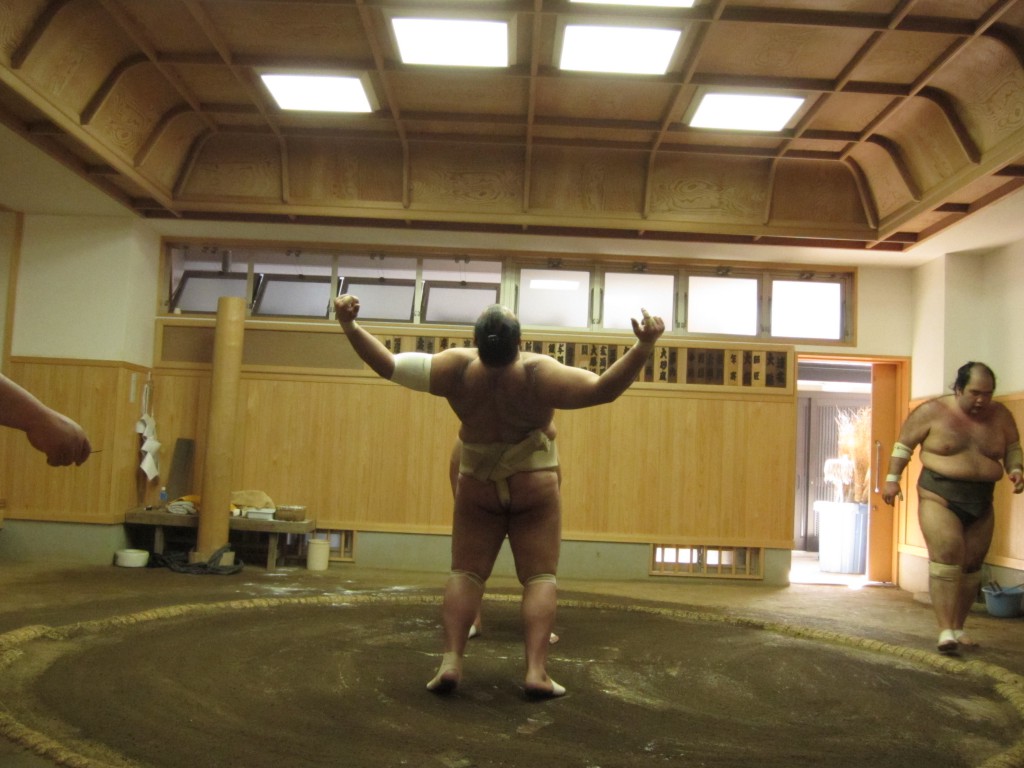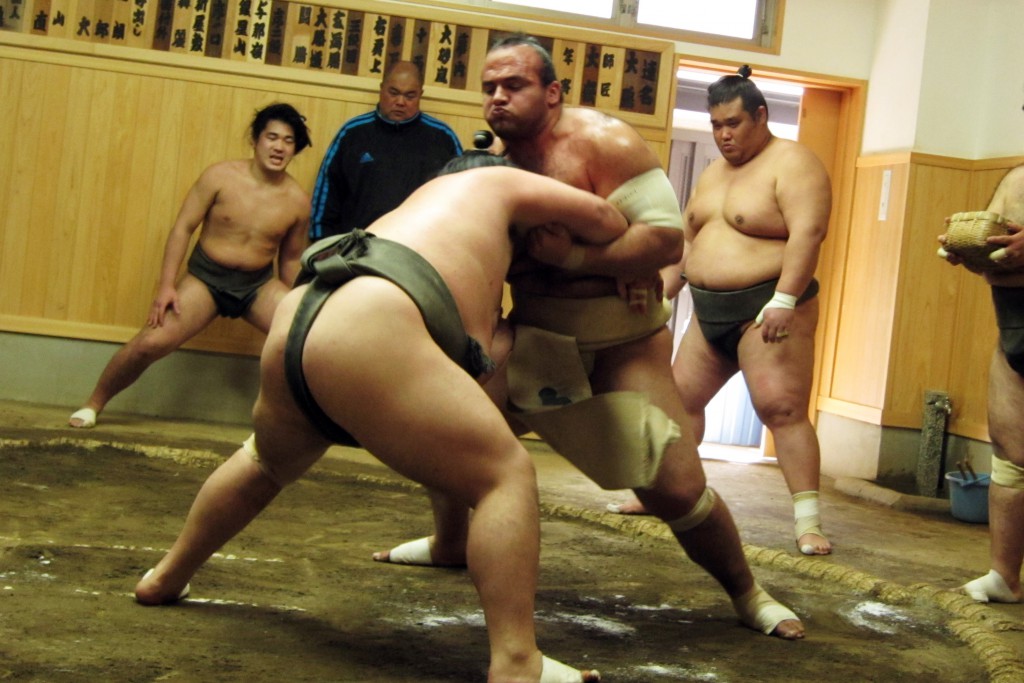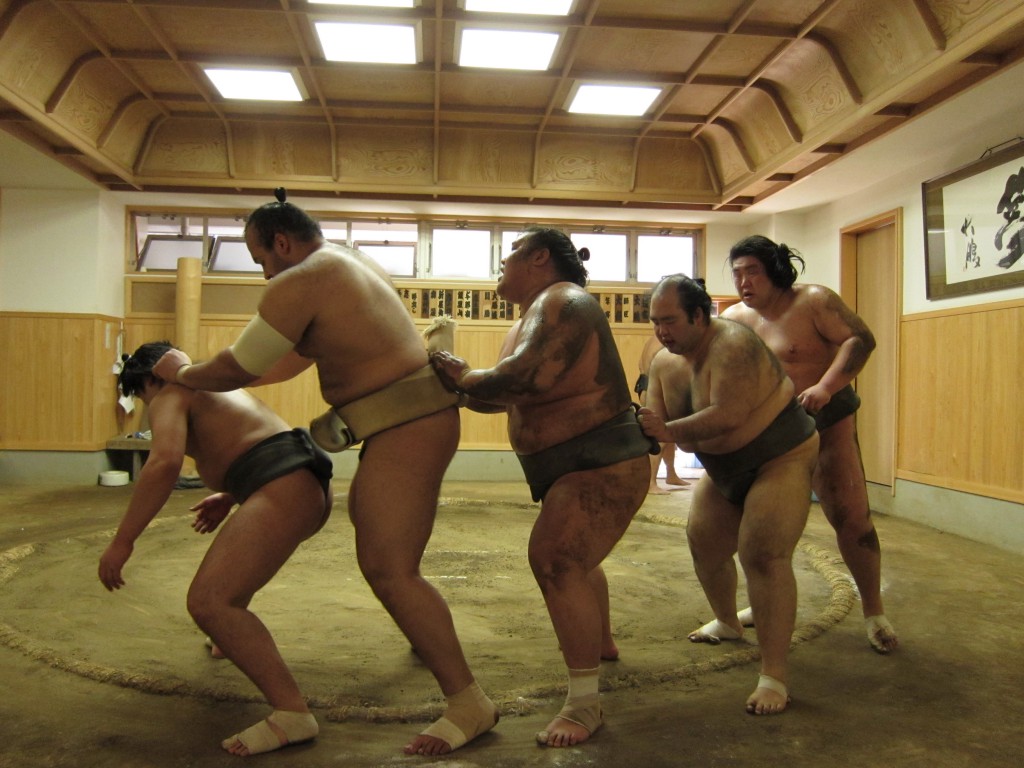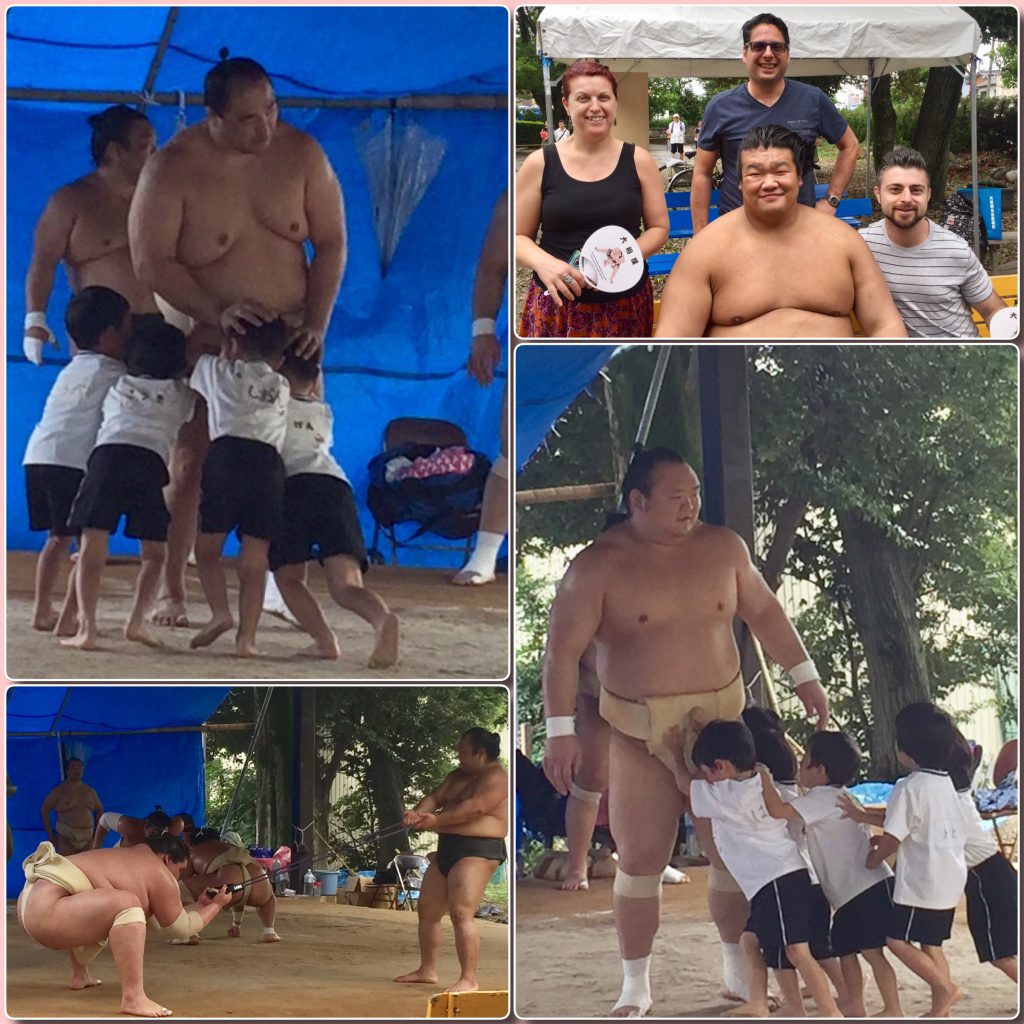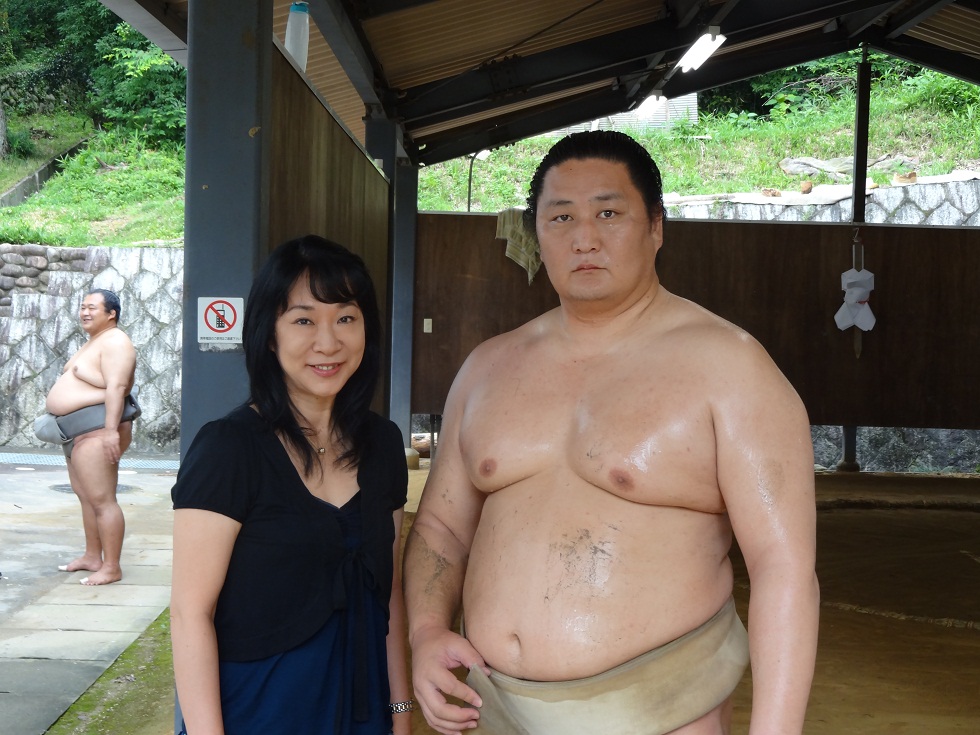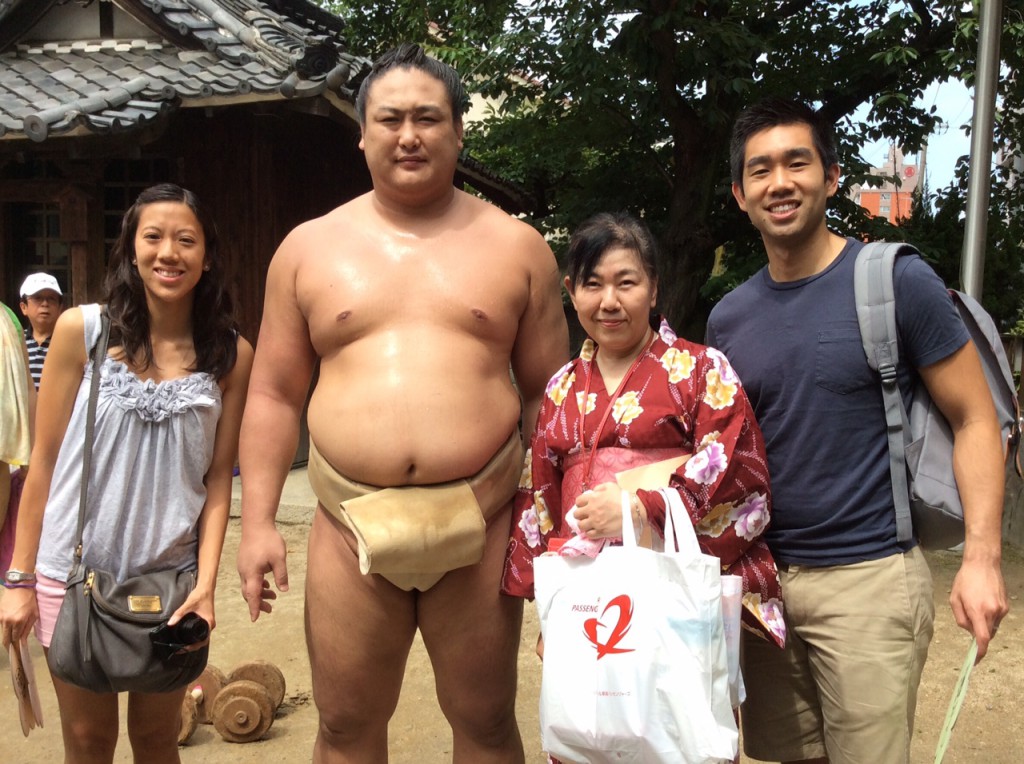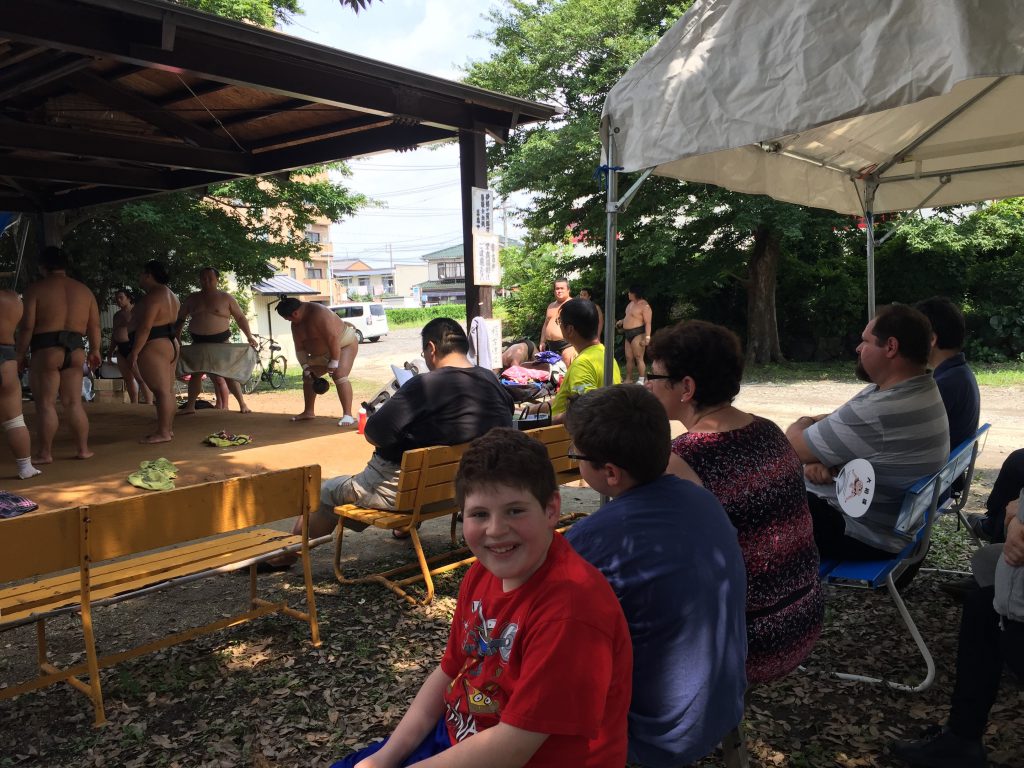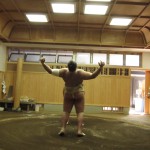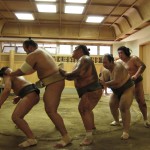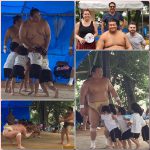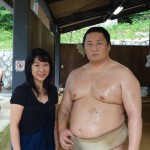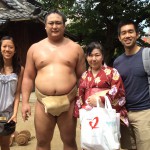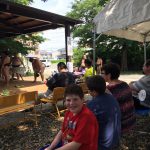 HIGHLIGHT
- Watch sumo training session with knowledgeable sumo tour guide.
- Stroll around vicinity of stable.
ITINERARY
CANCELLATION POLICY
If you cancel your reservation, the following cancellation fees and remittance charge will be charged:
(1) 14-3 days before the program day: 20 % of the program fee
(2) 2 days before the program day: 50 % of the program fee
(3) one day before, on the departure day, or cancellation without notice: 100 % of the program fee
PROGRAM FEE
Basic Fee (Per Group)

9,000

JPY
Fee per Person

7,000

JPY
Total Price = Basic Fee + Fee per Person * Number of Participants + Tax
STARTING TIME

7:30~
DURATION

3 hours
LOCATION

Nagoya
MINIMUM NUMBER OF PARTICIPANTS

1 persons
INCLUSIONS

・Guiding fee
・Public Transportation fee (For taxis or hired cars, additional fee will be charged.)
*Pick-up service is limited to a place near JR Nagoya Station.
EXCLUSIONS

Lunch, beverages ,and shopping fees
NOTIFICATIONS

◆Please follow the guide's instruction during the program. We shall not be responsible for any accident caused by disregard of the instructions.

◆As a standard rule, children under 12 years old are not allowed to join this program, as many of them often cannot stay silent and keep sitting still. It is understood that their parents have the whole responsibility of controlling their children. In case they fail to do so, the whole party including the guide have to leave the stable immediately.
◆Please keep in mind following precautions when you visit sumo training stables.
・ A sumo stable is not usually a facility for tourists. Sumo wrestlers are training very hard and seriously every day. So please make sure to show respect to the stable master and wrestlers.
・ Please stay quiet while watching training.
・ Please don't stand on the ring or on the sandy ground. The ring is the sacred place for the wrestlers.
・ You can take photos during the training without big sounds or flush.
・ Please turn off your mobile/cell phone.
◆Please understand that you will watch the training standing outside without a roof. 
◆Please advise us if you have any religious or health restrictions, allergies, or the case where you would like to request a special care for participants, including children. Please email us info@truejapantours.com to check an availability and share the information.
Please note that any programs booked without an inquiry will not be guaranteed.
◆Our services are mainly offered in English. In addition, services in other languages, such as Chinese, French, Spanish, German, Italian, Russian are also available. In case you would like services in languages other than English, please inquire us at info@truejapantours.com as soon as possible. We will check an availability.
◆Our business hours are from 9:00 am to 6:00 pm on weekdays. For inquiries received outside the business hours, we will look into it and respond on the next business day.
◆Before booking, please email us at info@truejapantours.com to check the availability.
Please note that any programs booked without an inquiry will not be guaranteed.