★ Machida City Museum of Graphic Arts
Ukiyo-e, Japanese woodcut prints, had a big impact globally on the painting arts of the 19th century. Their motifs were neither religious nor aristocratic, and their designs and colors were often largely deformed. As such, they especially had a great influence on the Impressionist painters. Machida City Museum of Graphic Arts houses more than thirty thousand pieces of such art, and you can even trace through the history of engraved print arts there. Visitors there can appreciate diverse works, from those of famous Japanese artists such as Katsushika Hokusai and Hiroshige Utagawa, to those of European's like Edouard Manet, Maurice Denis, and Pablo Picasso.
Nestled in a small valley called the Serigaya, the museum is conveniently located within walking distance from both of the Machida railroad stations. Its collection includes valuable print works from all over the world as well as traditional Japanese Ukiyoe hanga prints.
To name a few:
"Cat and Flower", 1869, by Edouard Manet
"Lyrical, from Sounds", 1911, by Wassily Kandinsky
"Still Life by Lamplight", 1962, by Pablo Picasso
"Sleep My Love", from Circus of the Shooting Star, 1935, by George Rouault
"Shipboard Girl", 1965, by Roy Lichtenstein
Hokusai's works are part of the museum's Ukiyoe collection. However, you also don't want to miss      the works of other Japanese artists like Hasui Kawase, Kiyoshi Hasegawa, Shiko Munakata, etc. which are also on permanent exhibition (displayed in turns). Until September 23, 2019, 100 print works of Umetaro Azechi will be displayed as part of a special exhibition titled "Mountaineers in My Heart".
Opened in 1987, the municipality-owned Machida City Museum of Graphic Arts has a collection of 30,000+ Japanese and Western prints from the 18th century up to now. The museum hosts various kinds of events and lectures and brings locals and visitors together for art and cultural exchange. The museum has a café that serves coffee, tea and light meals.
★ Jindaiji Temples and its area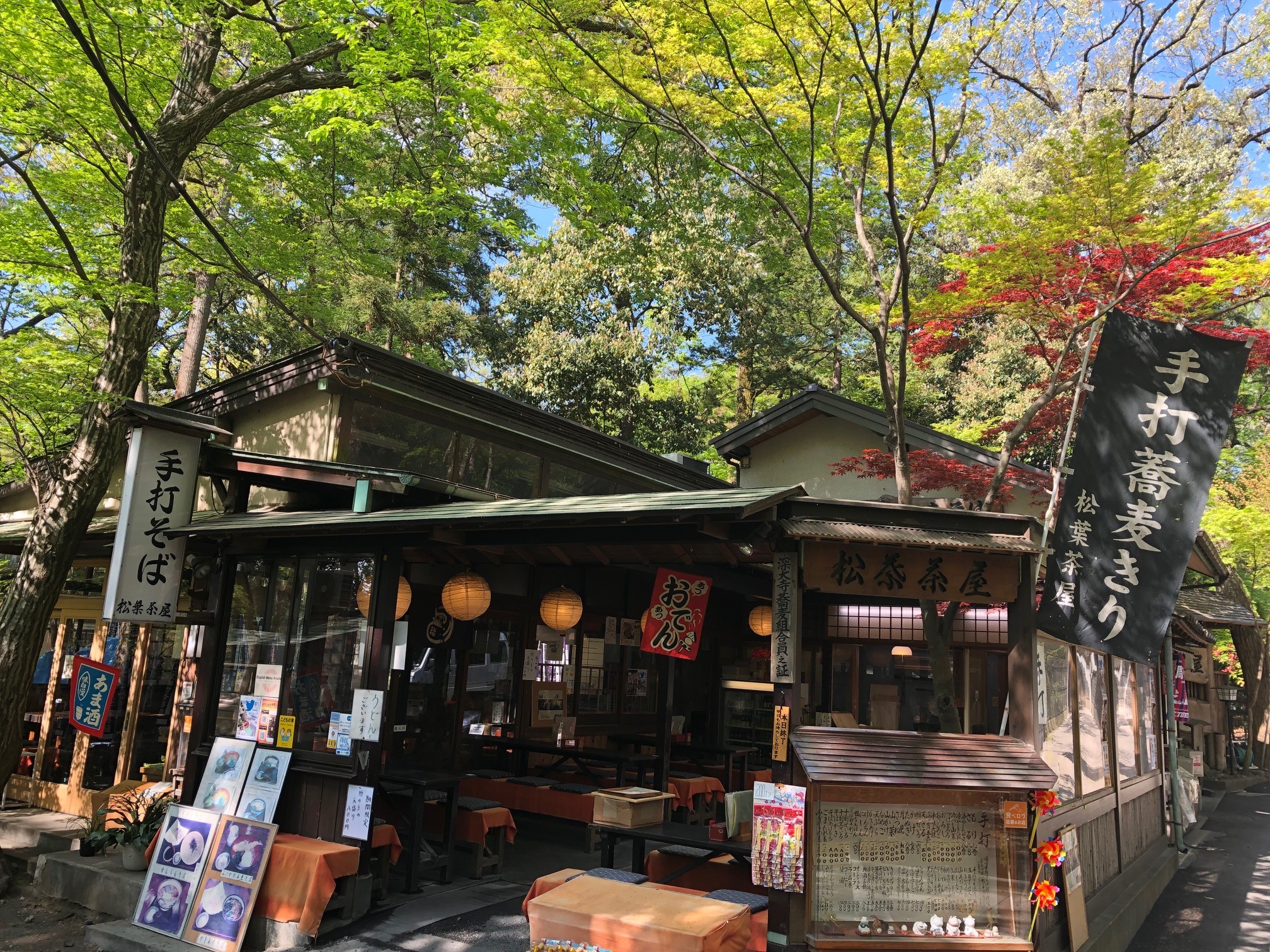 Rich spring water has fertilized rice paddy fields  in the Musashino area since ancient times. Eventually, a temple to enshrine the Shinto God of Water was built in this area, and according to a legend, this was the initial opening of Jindaiji Temple. It houses a national treasure, "Shaka Nyorai Zo" (which is a statue of the Buddha sitting on a chair) and a nationally important cultural property, known in English as "Old Temple Bell." At the temple's gate, people can feel comforted by the clear streams of spring water and the nostalgic sound of the water mill. About 20 soba noodle shops also await visitors in front of Jindaiji Temple, and in autumn especially, soba noodles and a few glasses of beer feel even more delicious when enjoyed with the open outside views.
Winding leafy streets, clear streams of spring water, and the nostalgic sound of the water mill, you can hardly believe that you are only 40 minutes from the busy city of Tokyo. With its traditional rural landscape, Jindaiji area is a popular destination for Japanese people seeking happy marriages or faith and assurance in life.
The center of the area is Jindaiji temple. It was built in 733 (during the Tempyo era in the Nara period) and is the second oldest temple in Tokyo after Sensoji Temple in Asakusa. Since ancient times, the rich spring water of the temple has provided sustenance for the rice field downstream. People praised the God of water for this and built the temple to enshrine the God known as "Jin-ja king".
Now, Jindaiji houses Buddhist treasures such as the "Shaka Nyorai Izo" (a stature of the Buddha sitting on a chair) from the Hakuhoh era in the late Asuka period (592-710), known as the Hakuho Buddha (a national treasure), and the old bell (an important cultural property), which was cast in 1376 in the late Kamakura period. Jindaiji was the first place to perform the spiritual practices of esoteric Buddhism in eastern Japan.
Jindaiji area is also renowned as a town of soba (buckwheat) noodles. In the gate-front area there are more than twenty soba restaurants sat side-by-side, so visitors can enjoy eating traditional Japanese noodles in an old, countryside atmosphere. During the Edo-period, the area around Jindaiji was not suitable to grow rice but it was suitable for making soba. The temple accepted soba flour instead of rice as a tax from the peasants, and served soba noodles to entertain guests. As the third Tokugawa shogun Iemitsu loved soba and encouraged its cultivation, soba became the local specialty of the area.
Also, you may find the "Kitaro-chaya" (Kitaro tea house), which features the famous "yokai" (traditional Japanese monsters, ghosts, and supernatural creatures) characters from the cartoon "Ge-ge-ge no Kitaro" by Shigeru Mizuki(1922 –2015). Mizuki was a famous cartoonist who lived in Chofu city and was also known as a specialist in Yōkai stories. In Kitaro-Chaya, you can enjoy Mizuki-world with its unique yokai characters.
★ Jindai Botanical Gardens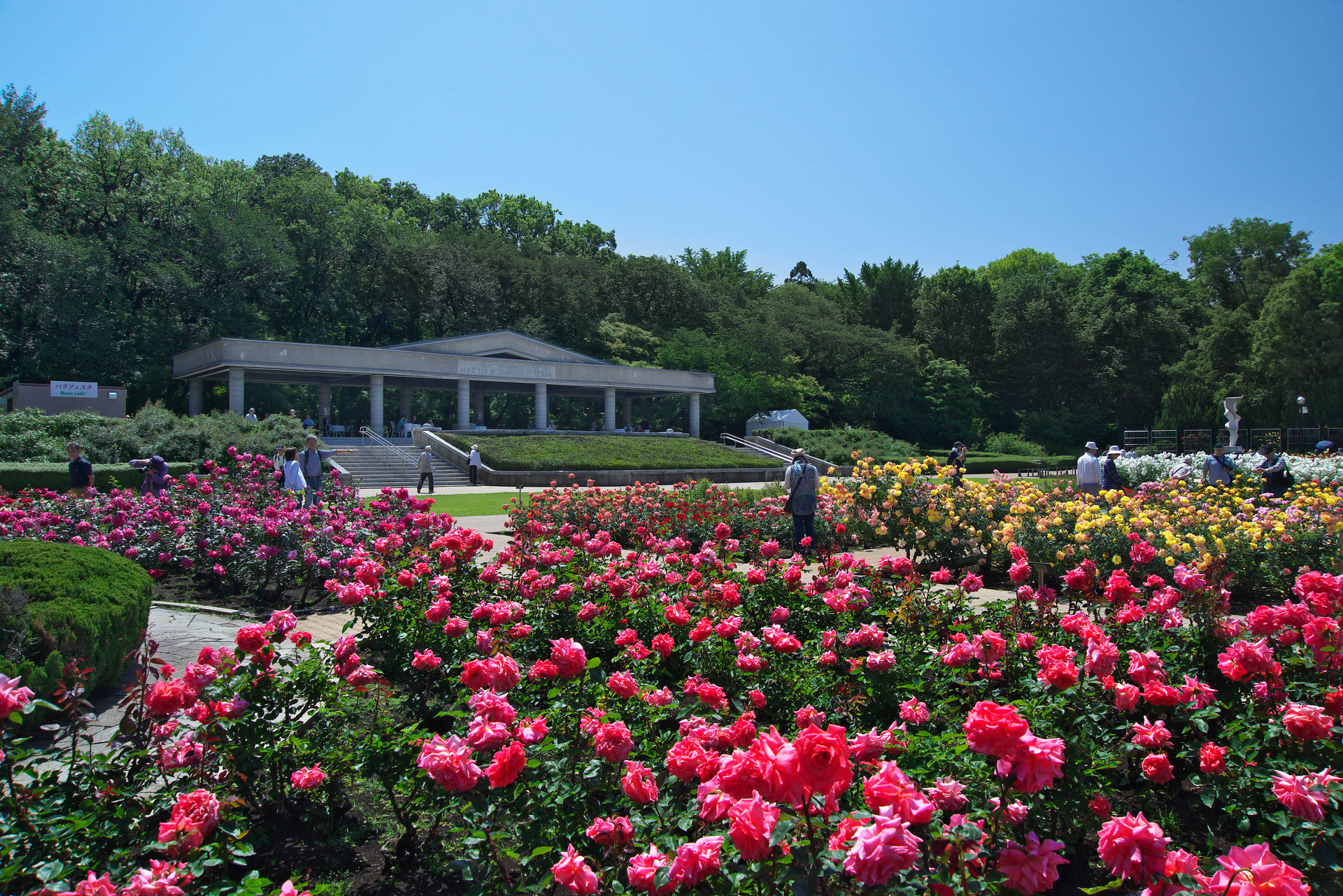 Though there has been a gradual loss of nature in Musashino with its continued urbanization, Jindai Botanical Gardens has kept unchanged the beauty of its nature. There is abundant spring water, a naturally preserved wooded area, and many aquatic plants in the gardens, and the walking path, with its scattered wild grasses and flowers, is open to the public. About 100,000 trees and 4,800 species of bushes can be found in the vast area of 120 acres, so visitors can enjoy the beauty of its trees, greens and flowers all year long.
Jindai Botanical Garden is the only botanical garden in Tokyo that uses nature from the old Musashino plain.  Found next to the Jindaiji temple, the area used to be a plant nursery raising roadside trees for Tokyo city. After WW2, the area was opened as the Jindai Green Zone, then in 1961, it was renamed as Jindai Botanical Gardens. Now, about 100,000 trees and bushes of 4,800 species are planted in the vast area of 120 acres, and visitors can enjoy the beauty of the trees, grass and flowers all year long.
Pampas grass is an eye-catching feature in the lawn. It grows as tall as 4 meters, and its fluffy silver flowers are very impressive in autumn. From September to October, lespedeza and chrysanthemum are in full bloom in the surrounding flowerbeds, and the smell of the sweet olive tree lets us know that autumn has come.
In the rose garden, 5,000 rose bushes of 300 varieties bloom during the autumn. In the symmetrically designed Rose Garden, you will be charmed by the beautiful, well-maintained cultivars of rose. Next to them, valuable collections of wild roses and old roses can be found, and in the special plantation, nominated roses for Japan Rose Concours grow.
Every October, the garden holds the Autumn Rose Festa. Visitors are welcome to join the guided tours with rose specialists, art and craft workshops, beginners classes, and the Rose Garden Concert. The Morning Fragrance tour, which is held early in the morning when the scent of rose is strongest, is especially recommended (advance reservation required).
Rose scented ice-creams and sweets, a variety of souvenirs, and limited items from the Rose Festival are all provided at the stalls around the park. You can also buy your favorite plant by consulting with the expert gardeners.
In the free admission area, is the Center For Plant Diversity. It was opened in 2012 to maintain the diversity of plants for the next generation, and provides lectures and special exhibitions on plants. Also, there is a free-for-use field, a gym, and a dog run. So, the garden is a place for anyone who loves plants and nature.
★ Yakushi-ike Park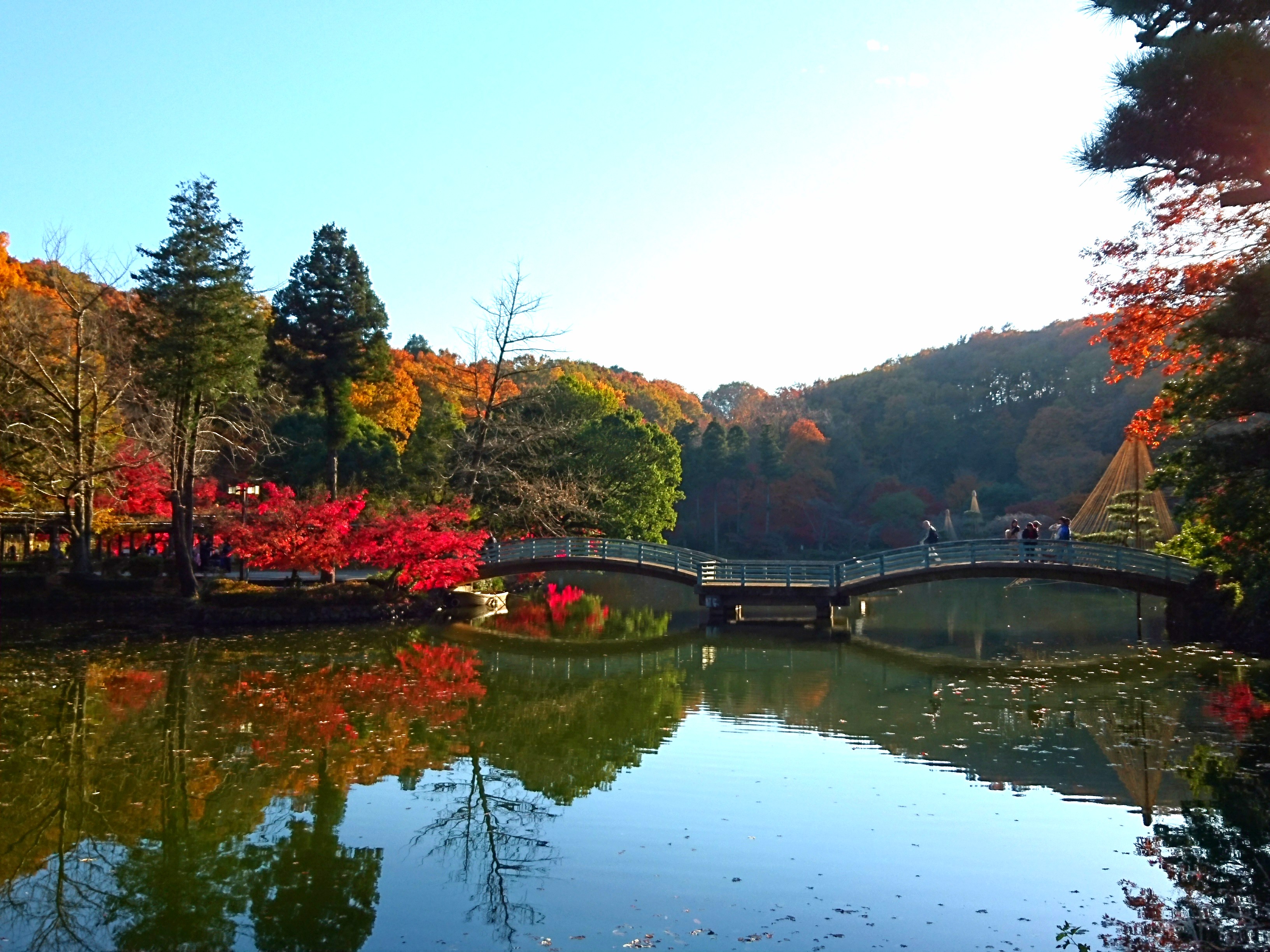 Yakushi pond was originally created as a reservoir for rice paddy fields. Both rice paddy fields and the flood control to maintain them were essential to ancient Japanese people. Now two old houses with thatched roofs built in Edo era have been relocated to this park, so visitors can experience what an old Edo citizen's life was like. The former residence of the Nagai Family, one of these is a nationally important cultural property. Enter either one of the houses and you can see robust pillars, beams and an open hearth in the floor. The experience helps you understand how Japanese people lived in those days.
All year round, this 35-acre green area welcomes you whether you want to view a variety of blossoms, appreciate historic wooden structures or just relax by the side of a pond. Selected as one of Japan's Top 100 Historical Parks, it certainly gives you a feeling of the past.
The pond was originally excavated in 1590 for rice-growing purposes and was twice dug again after mudslides buried it in 1707 and 1817. Local farmers maintained it for centuries for their living because rice paddies need a lot of water as they grow through summer until they are reaped in the fall. The pond was thus a critical infrastructure because rice was not only their staple food but was also the main article collected as tax, rather harshly, by the Shogun government.
Yakushi-ike derives its name from Yakushi Nyorai, Bhaisajyaguru in Sanskrit, which is a type of Buddha in Mahayana Buddhism. Indeed, walk a few minutes uphill from the park entrance, and you will find a hall dedicated to the worship of Yakushi Nyorai surrounded by trees. Imagine thousands of people for generations, one by one or in a group, standing there, putting their palms together, lowering their heads and praying for happiness on their way to the paddy fields every morning.
Near the pond, on display are two old houses in each of which a family actually lived from the Edo era till the 20th century. The municipal government relocated and preserved them because the government of Japan and the Tokyo Metropolitan Government designated them as important cultural properties. Both families had leadership roles in a village nearby. Looking from the outside, even Japanese people wonder how the wooden structures designed for ordinary living could withstand typhoons and earthquakes for such a long time. Enter either one of the houses and look at the robust pillars and beams. You will be convinced of their sustainability.
Now, let's get back to the pond and walk across the Taiko-bashi, two humpbacked, linked bridges. Then, swing by the traditional style Yakushi Chaya cafe that serves amazake or a sweet fermented rice drink. (Note: The amazake sold there may contain a small amount of alcohol.)
★ For smooth settlement, please pay with your credit card (PayPal), not bank transfer.
★Deadline for booking of this program is 10:00 am of 2 business days (JST) prior to the program date.
If you cancel your reservation, the following cancellation rates and remittance charge will be charged.
(1) 14 days - 3 days prior to the program date: 20 % of the program fee
(2) 2 days of the day before the program date: 50 % of the program fee
(3) a day before the program date: 100 % of the program fee